Pet Lotion 175 MLT Biofit Netsurf – Ayurvedic – for cattle, horses, pigs, goats, cats (Ayurvedic veterinary medicinal skin lotion.)
Pet Lotion is a proprietary Ayurvedic veterinary Medicinal skin lotion for cattle, horses, pigs, goats, cats and dogs. It form a protective layer on animal skin thereby helps in preventing and controlling infestations of ecto-parasites like ticks, mites, files and lices. This results in overall improvement of animal health. The active ingredients of this lotion are natural and non-toxic hence it is completely safe for animals.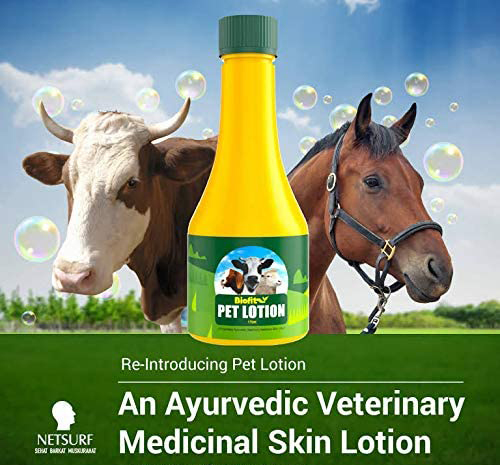 Benefits of Pet Lotion
It is a unique mixture of effective herbs which naturally cleanses and nourishes the skin and hair of animals.
Protects animals from sucking pests such as lice, mosquitoes, spiders and ticks.
Improves the productivity and health of animals.
How to Usage Netsurf Biofit Pet Lotion?
After bathing your dogs, cats, horses, pigs, goats, cattle and other animals, add 10 ml of Biofit Pet Lotion to 10 litres of water and prepare a solution. Now use this solution to sponge your animals. Massage gently with your hands to let it dry.
Precautions
A propriety Ayurvedic veterinary medicine.
Not for human use, for veterinary use only.
For external use only.
Why Netsurf
Netsurf is not just another Direct Selling company; We take diligent efforts in attaining this purpose. We also endeavour to bring a positive change in the lives of people through our quality products and prosperous business opportunity.
Trusted By More Than 2.5 Million Consumers
Captive Manufacturing Facilities For Health & Wellness, Personal Care, Agriculture Products
Operates In 633 Districts, 5000 Blocks
5.2 Million Health Care Products To 350,000 Families
9 Million Personal Care Products To 250,000 Households
12 Million Agriculture Products To More Than 1 Million Farmers
Supply Chain Capability 256 Stock Points Dispatched More Than 22.36 Million Products
5,00,000 Lakh Direct Sellers Are Managing Their Day-to-Day Business Through 'Netsurf Network App'
Our more lets product show on etradus.in