Vitamin Therapy Face Mist Herbs & More (100 MLT) – Netsurf – for Instant Cleaning of Skin)
Vitamin Therapy Face Mist with its instant water-less face cleansing moisturizes and refreshes skin. It protects from suntan, increases skin luminosity and glow by improving blood circulation, dismisses fine lines, wrinkles, dark spots and sebum. Hence, makes skin radiant and healthy instantly with a relaxing and soothing feel.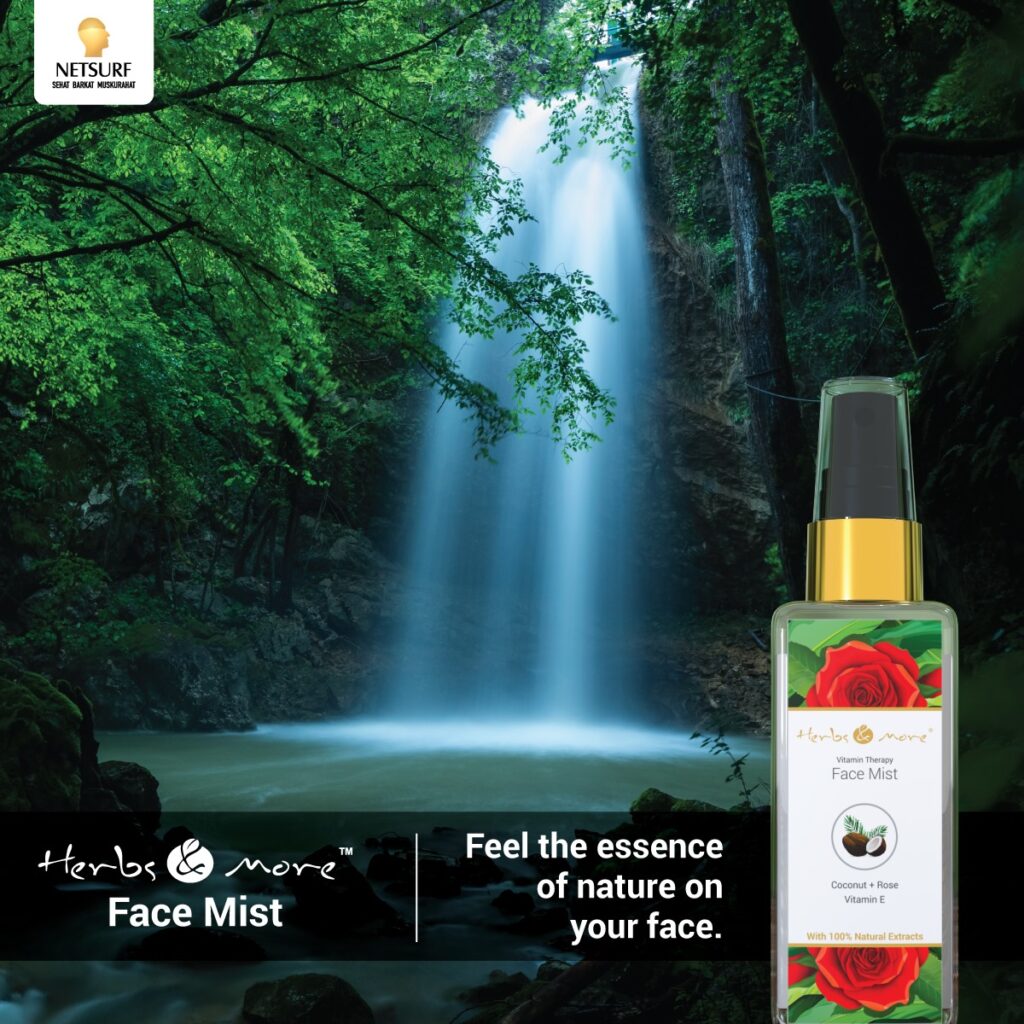 Benefits of Key Ingredients
Vitamin E
Moisturizes skin renews skin cells and prevents premature aging.
Coconut Water
Makes skin glow, smooth, and even-toned. It also rehydrates skin instantly.
White Tea Extract
Helps to delay the aging process through its high antioxidant concentration.
Rose Water
Has anti-inflammatory properties.
Olive Extract
Is full of antioxidants, boasting anti-bacterial and anti-inflammatory properties.
Aloe Vera Extract
Soothes sunburn, contains anti-inflammatory and cooling properties.
FAQs for Vitamin Therapy Face Mist?
How is Face mist different from a Face wash?
Face mist is a liquid that you mist onto your skin via a spray bottle. The face wash is a rinse-off product.
Why do we need a face mist, if Face wash does the same job?
Face mist is definitely a convenient way to give your skin an extra boost, and improve your makeup.
What are the uses of Face mist?
It hydrates your skin and helps to control your skin's oil production.
What should I do if I get a rash or irritation after applying this product?
Stop using the product and seek immediate medical attention.
Why Netsurf
Netsurf is not just another Direct Selling company; We take diligent efforts in attaining this purpose. We also endeavor to bring a positive change in the lives of people through our quality products and prosperous business opportunity.
Trusted By More Than 2.5 Million Consumers
Captive Manufacturing Facilities For Health & Wellness, Personal Care, Agriculture Products
Operates In 633 Districts, 5000 Blocks
5.2 Million Health Care Products To 350,000 Families
9 Million Personal Care Products To 250,000 Households
12 Million Agriculture Products To More Than 1 Million Farmers
Supply Chain Capability 256 Stock Points Dispatched More Than 22.36 Million Products
5,00,000 Lakh Direct Sellers Are Managing Their Day-to-Day Business Through 'Netsurf Network App'
Our more lets product show on etradus.in