Under Eye Gel for Dark Circles 25 Gms., Netsurf , Herbs and More, Vitamin Therapy, Helps in reducing ageing signs
This exclusive herbal Vitamin Therapy Under Eye Gel promotes under eye blood circulation, reduces puffiness and tightens the skin instantly; thereby naturally reducing dark circles and ageing signs around eyes.
This product is dermatologically tested and shown to be hypoallergenic in the studies.
Under Eye Gel for anti aging, brighter and healthier skin.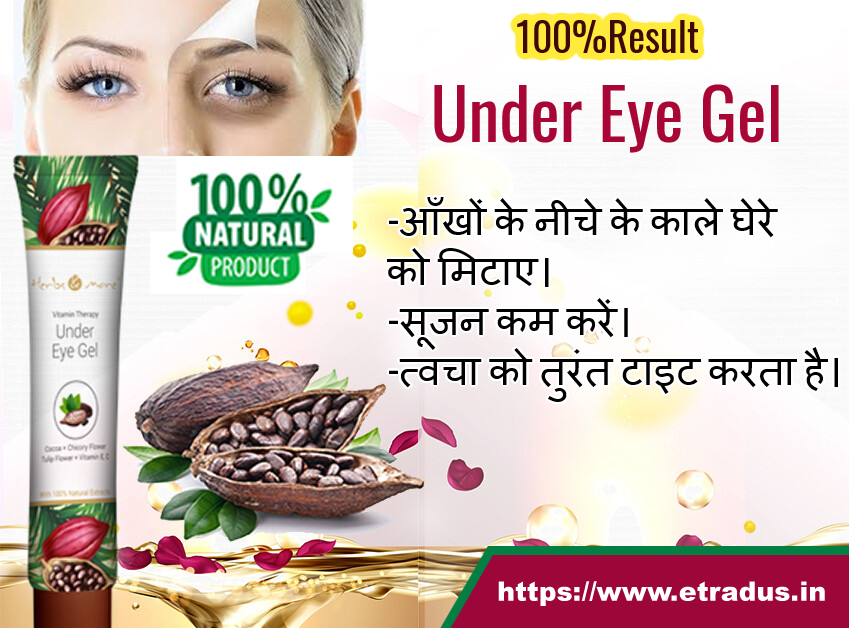 Benefits of Key Ingredients (Under Eye Gel)
Vitamin E
Moisturizes skin.
Vitamin C
For anti aging, brighter and healthier skin.
Cocoa Extract
Delays the signs of ageing, keeps skin healthy and activates fat burn.
Chicory Flower Extract
visibly erases the signs of fatigue and gives anti aging effects.
Tulip
Helps in reducing ageing signs and smoothens the complexion.
FAQs for Under Eye Gel
Will this product give itchiness to my eyes after applying? Does this product contain any harmful ingredients like paraffin or parabens?
Herbs & More Under Eye Gel contains 100% Natural Extracts and no harmful synthetic chemicals are added. It is paraffin free, paraben free and with a pH balanced formula, that is dermatologically tested as a non-irritant.
How long should I use this product to see the result of the under eye problem ?
The result varies from person to person, their habits, nutrition and sleeping hours.
Does this product reduce wrinkles and crow's feet near my eyes?
This product contains Chicory and Cocoa Extract may help maintain a healthy blood circulation around the eyes and balance under eye skin tones while reducing signs of fatigue.
Why do you need to massage while applying this product, Under eye gel for dark circles  ?
Massage improves the blood circulation around the eye sockets. It creates a combination of vibration, heat, and compression to relieve the tension, in and around the eye area.
How do you massage this product around the eyes?
Use your middle finger to massage, using gentle tapping motions. Tap in a circle around the eyes. Tapping brings proper blood flow to the area. Move outwards along the eyebrows, then inwards along the top of your cheekbones toward the bridge of your nose, in a circular motion. Repeat this for 30 seconds.
What should I do if I get a rash or irritation after applying this product , (Gel for eye) ?
Stop using the product and seek immediate medical attention.
Our more lets product show on etradus.in