Netsurf Face Wash For Man (100 GMS) – Harbs and More – Ayurvadic – Vitamin B3 and E
Vitamin Therapy Netsurf Face Wash for Him is a new pH balanced, Paraben-free and harmful- synthetics-free face wash specially crafted considering men's facial care requirements. It helps to soften and hydrate dry and flaky patches, protects skin from environmental damage, maintains skin firmness and structure, and with moisturizing and detoxifying properties.
This product is dermatologically tested and shown to be hypoallergenic in the studies.
Netsurf Face Wash for Him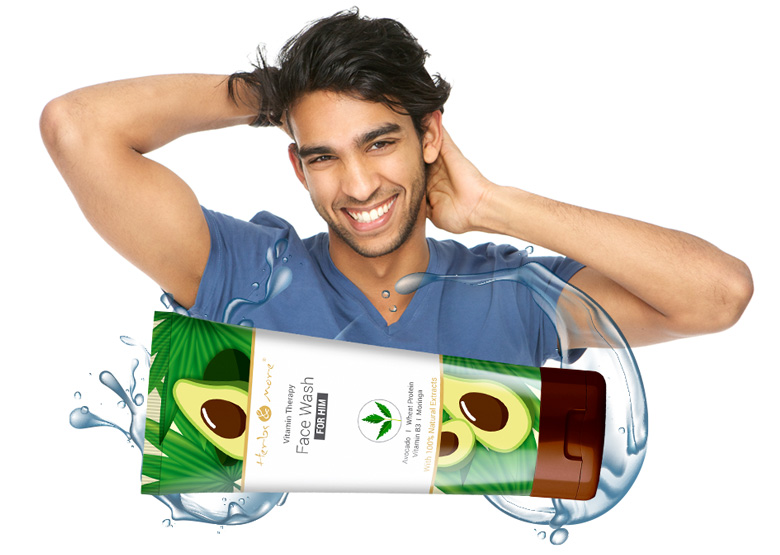 Benefits of Face Wash for Him
Vitamin B3
Is an anti-acne agent. It keeps skin hydrated and also replenishes skin tone.
Vitamin E
Helps to protect and preserve skin cells, resulting in youthful look.
Avocado
Whitens, moisturizes, and softens the facial pores and eliminates acne.
Moringa
Contains great anti-ageing properties.
Wheat Protein
Nourishes skin and helps in reducing wrinkles.
Neem
Helps in treating acne, scars, pigmentation and blackheads.
Tulsi
Helps in treating acne, provides nourishment to the skin and tightens it.
FAQ's for Face Wash for Man
Is this product suitable for oily skin?
Yes, this product can be used on all types of skin.
I have a traveling job and get exposed to environmental pollution, dirt, and dust quite often. This makes my skin dull and dry. Does your face wash help me fight against these issues?
Yes, this product contains Avocado and Moringa extracts which help remove dirt and greasiness, maintains skin firmness and structure, and has moisturizing properties.
Will this Netsurf Face Wash also nourish the skin along with cleansing?
Yes, it contains Tulsi Extract that provides extra nourishment to the skin thus helps maintain normal moisture of the skin after cleansing.
Can I use this Netsurf Face Wash as a shave gel too?
No, this product only helps to clean and moisturize the skin.
Can I use this product to clean my beard?
Yes, you have to massage the product on your beard for a few minutes and then wash your face with water.
What is the use of the beads that are added to the product?
These are cellulose – based beads encapsulated with Vitamin E that help to revitalize skin cells, resulting in a youthful look.
What should I do if I get a rash or irritation after applying this product?
Stop using the product and seek immediate medical attention.
Why Netsurf
Netsurf is not just another Direct Selling company; We take diligent efforts in attaining this purpose. We also endeavour to bring a positive change in the lives of people through our quality products and prosperous business opportunity.
Trusted By More Than 2.5 Million Consumers
Captive Manufacturing Facilities For Health & Wellness, Personal Care, Agriculture Products
Operates In 633 Districts, 5000 Blocks
5.2 Million Health Care Products To 350,000 Families
9 Million Personal Care Products To 250,000 Households
12 Million Agriculture Products To More Than 1 Million Farmers
Supply Chain Capability 256 Stock Points Dispatched More Than 22.36 Million Products
5,00,000 Lakh Direct Sellers Are Managing Their Day-to-Day Business Through 'Netsurf Network App'
Our more lets product show on etradus.in