Body Lotion Herbs & More (100 MLT) – Netsurf Vitamin Therapy – Vitamin E – Shea Butter (Vitamin Therapy Body Lotion for Skin Intense Moisturization)
Vitamin Therapy Body Lotion excels in intensely hydrating your body skin naturally even under extreme (rough, hot, dusty, dry or polluted) weather conditions. It is made for everyday application across all seasons and it also provides the ultimate protection of SPF 15++ (UV-A & UV-B protection).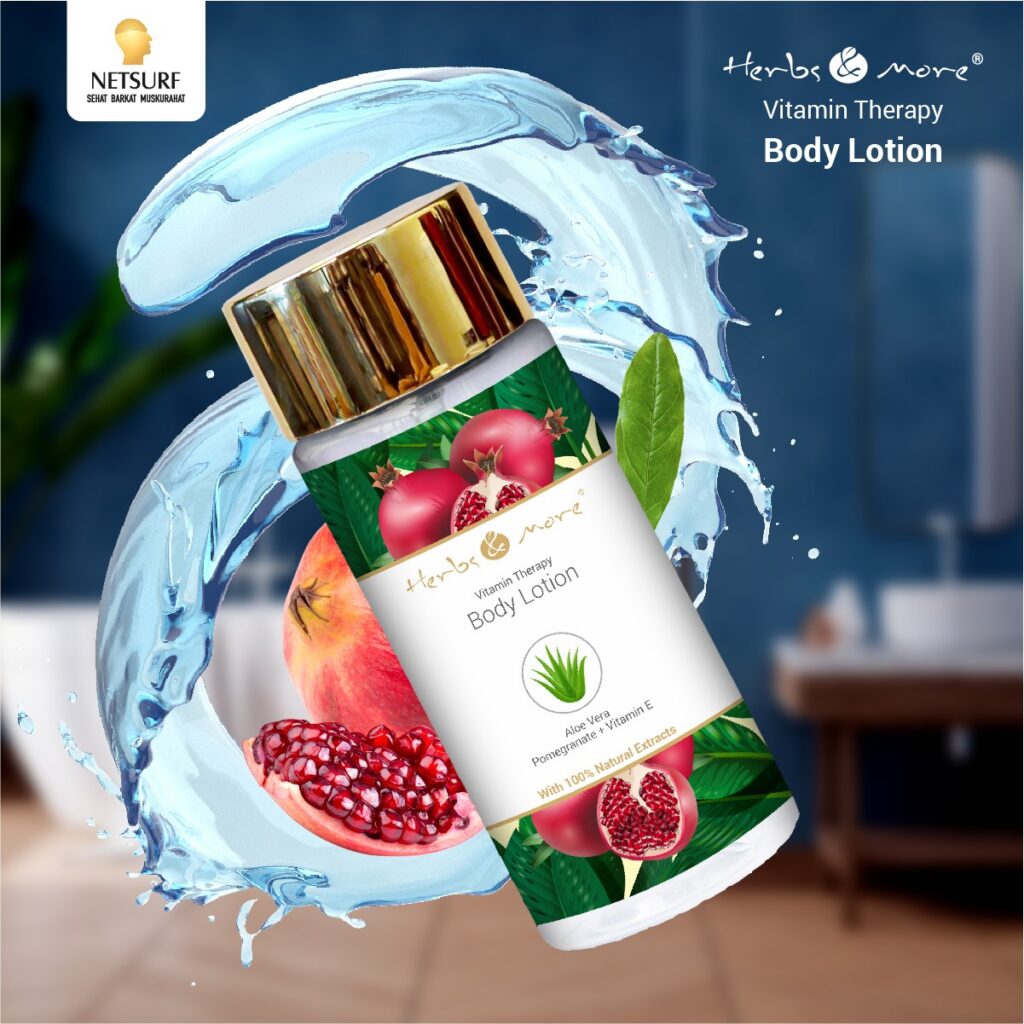 Benefits of Key Ingredients
Cactus Stem Extract
Provides excellent hydration to the skin, and soothes and calms irritated skin.
Bamboo Extract
Moisturizes and softens skin.
Cocoa Butter and Shea Butter
Prevent skin dryness
Vitamin E
Moisturizes skin.
Faqs for Body Lotion?
Will this body lotion work in extreme cold conditions?
You need to reapply the product after every 2-3 hours as skin tends to become dry in extreme cold conditions.
How many times a day, should this product be applied in normal conditions?
You can apply it according to your need, but usually it is applied twice a day.
How is it different from other products (Body Lotion) ?
This product contains natural butters and oils that help soothe your skin.
Does this product also provide me with sun protection?
It contains sunscreen agents and is SPF15++ (UVA & UVB protection).
What should I do if I get a rash or irritation after applying this product(Body Lotion) ?
Stop using the product and seek immediate medical attention.
Why Netsurf
Netsurf is not just another Direct Selling company; We take diligent efforts in attaining this purpose. We also endeavour to bring a positive change in the lives of people through our quality products and prosperous business opportunity.
Trusted By More Than 2.5 Million Consumers
Captive Manufacturing Facilities For Health & Wellness, Personal Care, Agriculture Products
Operates In 633 Districts, 5000 Blocks
5.2 Million Health Care Products To 350,000 Families
9 Million Personal Care Products To 250,000 Households
12 Million Agriculture Products To More Than 1 Million Farmers
Supply Chain Capability 256 Stock Points Dispatched More Than 22.36 Million Products
5,00,000 Lakh Direct Sellers Are Managing Their Day-to-Day Business Through 'Netsurf Network App'
Our more lets product show on etradus.in