Netsurf Naturamore for Kids Chocolate Cookie Flavour Protein, Vitamins (400 Grams)
Meeting nutritional needs of the growing child is a challenge, but not any more with Netsurf Naturamore for Kids (30% Protein), now in yummy Chocolate Cookie Flavour. It is a specially designed nutraceutical with 5 Dietary Protein Sources, essential Vitamins and Minerals, Colostrum, Omega 3 DHA, Brahmi and Ashwagandha targeted to help all round healthy growth of kids.
30% Protein – 13 vitamins – 10 minerals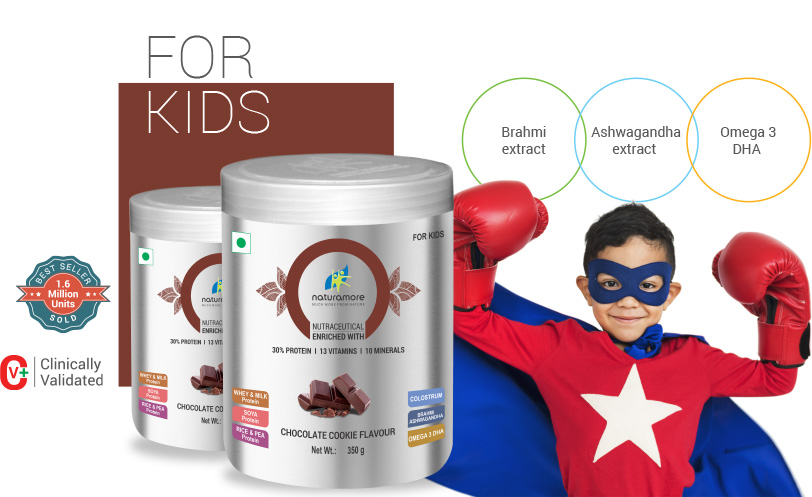 Naturamore for Kids helps to maintain:
A balanced immunity.
Healthy bones and muscles.
Healthy cognition and concentration.
A healthy wholesome nutrition.
Naturamore for Kids
For kids in the developing age (3 years to 18 years of age).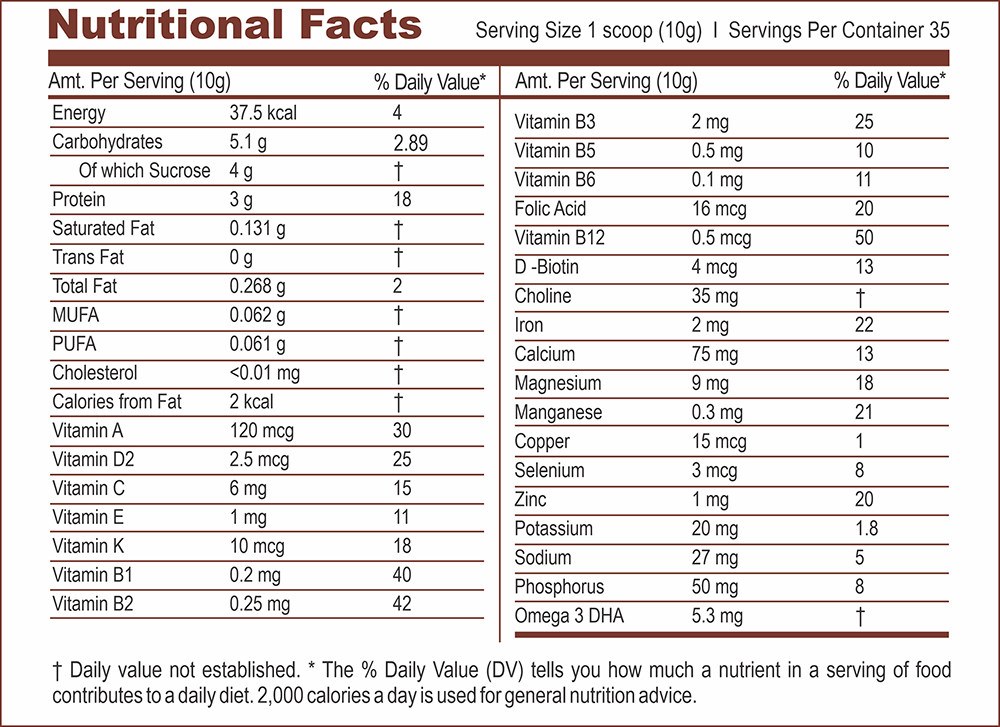 ENRICHED WITH (Naturamore for Kids)
Brahmi
Ashwagandha
Colostrum
Omega 3 DHA

Naturamore for Kids Benefits of Ingredients
Exclusive protein blend of 5 dietary sources
(Whey Protein + Rice Protein + Pea Protein + Soya Protein + Milk Protein)
This exclusive blend of proteins ensures rich supply of Essential Amino Acids (EAA's) required for the daily needs of growing child with special focus on brain and bone health. These proteins help in maintaining proper growth, immunity and metabolism.
13 vitamins and 10 minerals
A specially crafted combination ensures proper supply of nutritionally essential multivitamins and minerals to support immune system, bones and muscle health, cognition, concentration, metabolism, and combat stress related effects on the body.
Brahmi (Bacopa monnieri) extract
Helps in maintaining brain health, and a sharp cognition and memory.
Ashwagandha (Withania somnifera) extract
Helps to maintain mind and body balance by reducing stress and anxiety. Also helps to modestly enhance strength performance, bone and muscle health and immunity.
Colostrum
Colostrum helps promote growth and health in infants and may also promote immunity, help fight infections, and improve gut health throughout life.
Omega 3 DHA
It is a vital micro nutrient required for the healthy functioning of brain, vision and overall nervous system.
Why Netsurf
Netsurf is not just another Direct Selling company. It is a thought that has been conceived with a motive, to endow you with an opportunity that helps you to 'redefine your career'. We take diligent efforts in attaining this purpose. We also endeavor to bring a positive change in the lives of people through our quality products and prosperous business opportunity.
Trusted By More Than 2.5 Million Consumers
Captive Manufacturing Facilities For Health and Wellness, Personal Care, Agriculture Products
Operates In 633 Districts, 5000 Blocks
5.2 Million Health Care Products To 350,000 Families
9 Million Personal Care Products To 250,000 Households
12 Million Agriculture Products To More Than 1 Million Farmers
Supply Chain Capability 256 Stock Points Dispatched More Than 22.36 Million Products
5,00,000 Lakh Direct Sellers Are Managing Their Day to Day Business Through 'Netsurf Network App'
Our more lets product show on etradus.in