Cow & Gate 4 Toddler Baby Milk Powder Formula, 2-3 Years, 800g
Cow & Gate 4 Growing-up toddler milk formula from 2-3 years baby. We believe that when little ones are happy on the inside, they're happy on the outside too. And when it comes to looking after them, support, care and nutrition can all help. Once your toddler is eating a wide range of different foods, you may choose to switch from a full-fat growing up milk to a semi-skimmed version. Our Stage 4 growing up milk is semi-skimmed and formulated to help provide 2-3 year olds with nutrients they need as part of a varied, balanced diet.
Our growing up milk is a fortified milk drink for 2-3 years and is: – Enriched with Iron to support normal cognitive development – A source of calcium and high in vitamin D. Calcium & vitamin D are needed for normal bone development No formulation change. Same ingredients, same taste. Do not allow prolonged or frequent contact of drinks with your toddler's teeth as this increases the risk of tooth decay. Ask your healthcare professional or dentist for advice. Do not leave your toddler alone whilst eating and drinking.
Ingredients of Stage 4 Toddler milk powder
Skimmed milk, Lactose (from MILK), Vegetable oils (Palm oil, Sunflower oil, Rapeseed oil), Whey product (demineralised whey, whey protein concentrate) (from MILK), Galacto-oligosaccharides (GOS) (from MILK), Maltodextrin, Calcium phosphate, Fructo-oligosaccharides (FOS), Potassium hydrogen phosphate, Calcium carbonate, Magnesium citrate, Milk flavouring, Vitamin C, Magnesium hydrogen phosphate, Potassium citrate, Sodium chloride, Emulsifier (SOY lecithin), Iron sulphate, Zinc sulphate, Vitamin E, Vitamin D3, Potassium chloride, Pantothenic acid, Vitamin B12, Niacin, Riboflavin, Folic acid, Vitamin A, Vitamin K1, Biotin, Vitamin B6, Thiamin, Potassium iodide.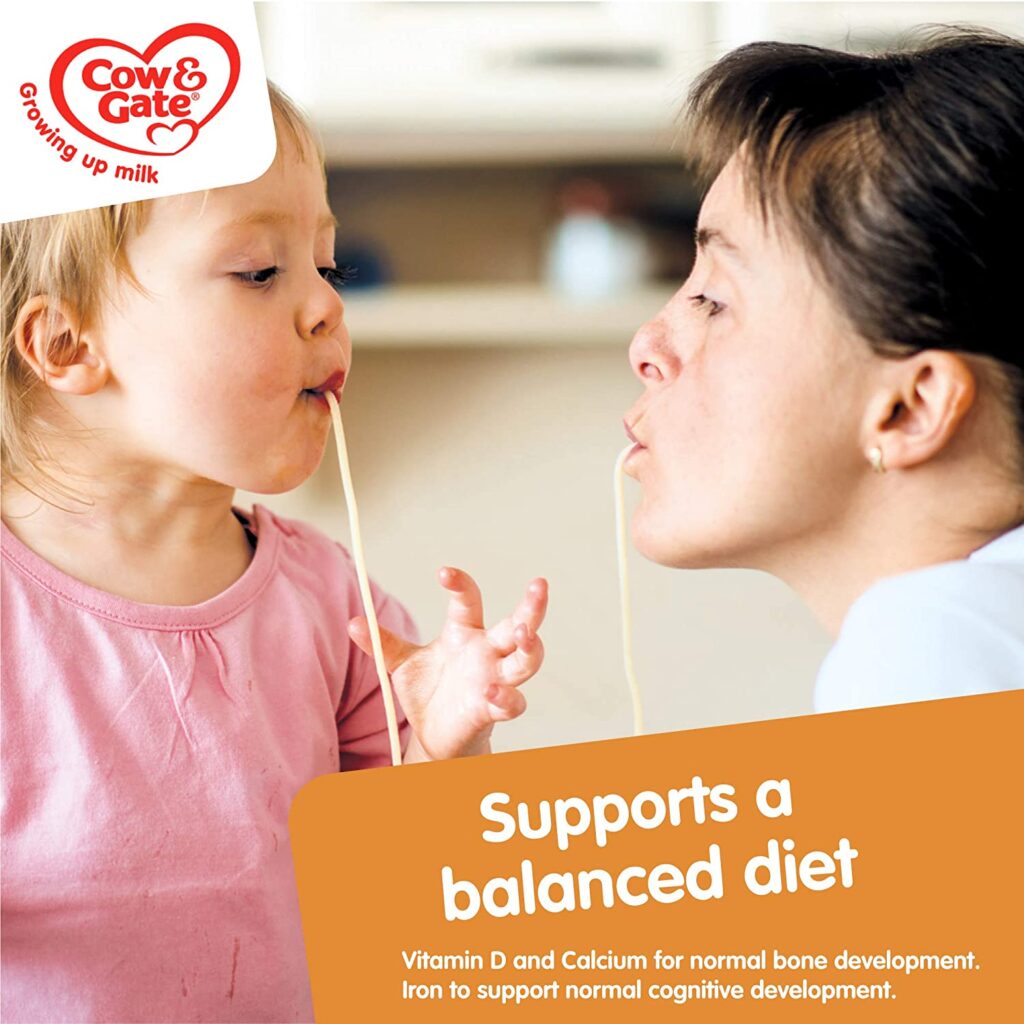 Directions
Feeding guide 2-3 years
1 beaker, Amount of water 150ml, 5 fl.oz, Number of level scoops (1 scoop =4.0g): 5
From 2-3 years, your toddler will need about 2 x 150ml beakers of growing up milk per day. We recommend one beaker in the morning and one at night.
Always use the scoop provided, please note the colour of the scoop may change from time to time.
How to use this Cow & Gate Stage 4 Baby Formula pack ?
To open: remove tamper evidence strip & lift lid.
In the pack is a scoop and leveller to help you measure the correct amount of powder. Store your scoop in the lid between uses.
Click the lid securely shut to keep your powder fresh.
How to prepare Cow & Gate 4 baby milk powder ?
Because powdered milks are not sterile, failure to follow instructions may make your toddler ill.
Measure 150ml or 5fl.oz boiled, cooled water into a clean beaker.
Using the scoop provided, add 5 levelled scoops of powder into the beaker.
Replace clean lid on beaker. Shake well for 10 seconds to dissolve powder.
Check temperature and drink immediately.
For hygiene reasons do not store made up milk drinks. Make up each drink as required and always discard unfinished drinks within 2 hours.
Do not heat in a microwave, hot spots may occur and cause scalding.
Box Contains
Each order comes with 6 x Cow and Gate 2-3 Years Growing Up Milk Powder 800 g
Our more lets product show on etradus.in