Hipp Organic Stage 3 Growing Up Baby Toddler Milk Powder Formula 600g in India, for 12th Months+ Baby
Hipp Organic combiotic growing up stage 3 is designed to give the nutrients your toddler needs to grow alongside a mixed diet from 1 year onwards. It contains vitamin D and calcium for the normal development of bones, and iodine which contributes to normal cognitive function. Stefan Hipp, one of the fourth generation family owners of HiPP, personally guarantees every product we make, just as his family has done for over 120 years. HiPP quality is something particularly special and very important to us. We don't just meet EU standards, we exceed them. To achieve this, we work with nature rather than against it, in a sustainable way that protects bio-diversity, helping us to produce the best possible ingredients. Use the instructions and measuring scoop provided.
Hipp Stage 3 Baby Milk Powder Formula in India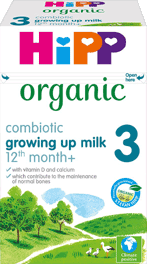 Ingredients of HiPP Organic Growing up Stage 3 Baby Milk Formula
Skimmed Milk,
Lactose,
vegetable oils (palm oil, rapeseed oil, sunflower oil),
galacto-oligosaccharides from Lactose,
potassium citrate,
calcium salts of orthophosphoric acid,
calcium salts of citric acid,
magnesium sulphate,
Fish oil,
vitamin C,
ferrous sulphate,
stabiliser lactic acid,
zinc sulphate,
vitamin B2,
vitamin A,
potassium iodate,
folic acid,
D-biotin,
vitamin D,
vitamin B12.
Allergens: see ingredients in Bold"

Safety Warning
This product left our factory in a faultless condition – please ensure that the inner foil bags are undamaged before use.
Box Contains of Hipp Stage 3 Combiotic Toddler Milk Formula
4 x 600g boxes
How to use HiPP Organic Stage 3 Baby Milk Powder ?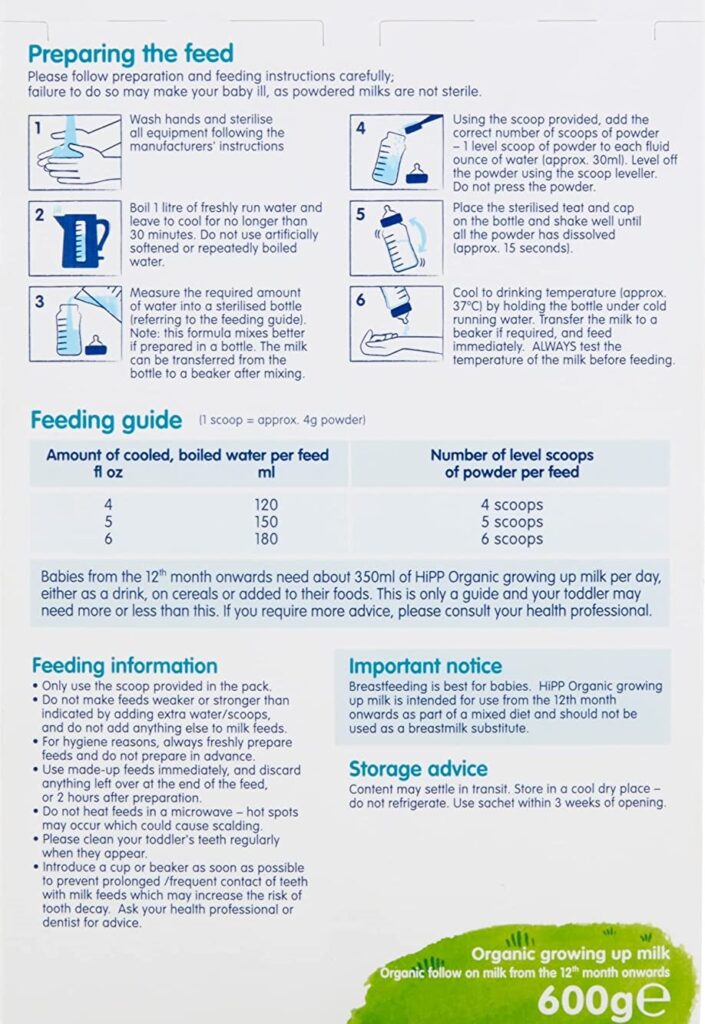 Our more lets product show on etradus.in